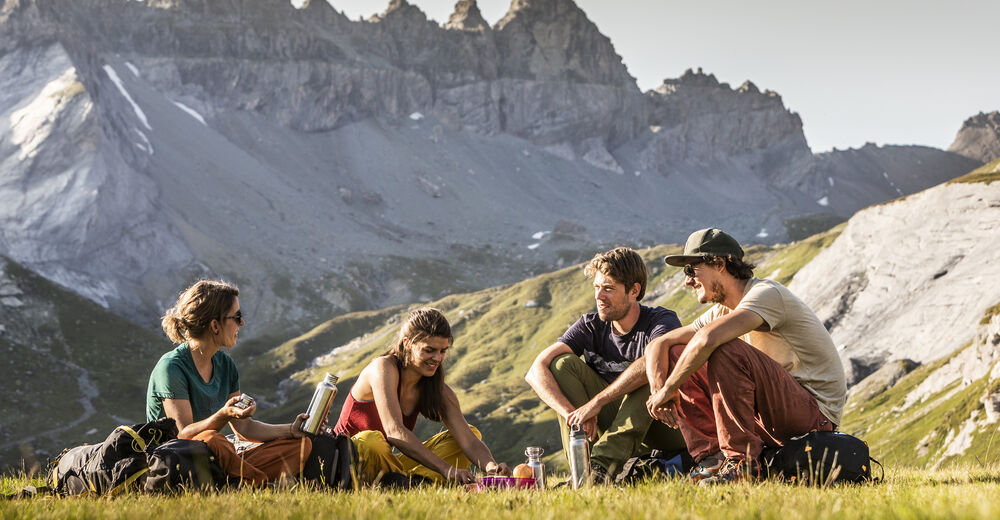 Flims: unique outdoor holidays in Switzerland
The Swiss holiday region Flims offers visitors everything they need for a perfect holiday experience. Holidaymakers can enjoy a wide range of outdoor activities against the backdrop of the Sardona tectonic arena, a UNESCO World Heritage Site. Exciting adventures await visitors of all ages, including hikes, the Ami Sabi Summer Wonderland, the Freestyle Academy, unforgettable moments on and in the water, bike tours, climbing trips and much more. The culinary treats and cultural highlights of the region also contribute to ensuring a varied and unforgettable holiday for the whole family.
Flims …
... comprises the three locations Flims, Laax and Falera.
These three locations are situated in the Swiss canton of Graubünden, and are just 90 minutes away from Zurich.
… is a starting point for hikes through the Sardona tectonic arena.
Hikers can explore 250 kilometres of trails in the magnificent natural setting of the Sardona tectonic arena UNESCO World Heritage Site, a unique rock formation. The area surrounding the natural wonders Martinsloch and Tschingelhörner is easy to reach by cable car. One highlight is the 13-kilometre-long Trutg dil Flem riverside trail, which meanders through the wild mountain landscape of Flims and provides hikers with an in-depth insight into the history of the unique rockslide region.
… offers family fun for guests of all ages.
Both younger visitors and grown-ups alike feel at home in Flims, with offers such as the Family Pass making it easy for them to explore the Graubünden mountain landscape together. Playgrounds, bathing lakes, easy bike trails and hiking routes suitable for prams and pushchairs are just some of the outdoor experiences available for families with children. The destination has already been awarded the Families Welcome quality seal several times by Swiss Tourism.
… is a paradise for small children with the Ami Sabi Summer Wonderland.
Children gain a fascinating insight into the natural environment in the Ami Sabi Summer Wonderland. They embark on a wide range of adventures with Ami Sabi, friend of the animals and forest, who tells them about the secrets of the region and teaches them a range of handicrafts. The underlying concept of the Ami Sabi Summer Wonderland is to introduce children to the natural environment through a mixture of games and activities.
… promises the very best action at the Freestyle Academy.
Creativity knows no bounds in the Freestyle Academy, Europe's first freestyle hall. Over 1,000 square metres, the hall provides space for all snowboarders, free skiers, skaters and bikers to practise and share experiences together – all year round and whatever the weather. The focus is on fun, enjoyment and exercise, with new tricks and jumps being tried out on the trampolines and the Big Air with its jumping platforms of various heights.
… offers fun and action on and in the water.
Crystal-clear bathing lakes are one of the region's natural highlights, and the turquoise Lake Cauma with its little island, water playground, pedalos, stand-up paddle-boarding, restaurant and cosy lounge offers visitors a wide range of attractions. Holidaymakers looking for a thrilling experience can take a rafting tour or kayak trip on the Anterior Rhine. The adventurous trip takes in the wild Rhine gorge, considered one of the most fascinating river courses in Europe with its steep white rock walls.
… stands for unlimited biking experiences over 330 kilometres.
Flims has a suitable trail for every biker – whether beginner, advanced or professional – with a selection that includes easy cross-country routes through the Flims forest and more challenging freeride tours. Thanks to rental e-bikes and battery-charging stations in the region, bikers with varying levels of fitness can take trips together – for example along the magnificent Rhine gorge. Flims is also renowned for its first-class bike service, including rental, service stations, practice trails and guided tours from the Emprova bike school.
… has the oldest via ferrata in Switzerland.
The historic via ferrata Pinut, the oldest in Switzerland, takes adventurers to new heights, providing them with an impressive experience of the natural surroundings and a spectacular view. The Pinut takes you via ladders and steel stairs along the steep rock wall of the Flimserstein mountain. Climbing gear and a sure footing are prerequisites for a tour, and climbers should have a good head for heights. The tour, which takes around five hours, is also suitable for beginners and children from the age of 12 accompanied by an adult.
… offers culture at the highest level.
The range of recreational options on offer in Flims is supplemented by a diverse selection of cultural activities. Holidaymakers can explore the megalithic site Parc La Mutta and marvel at the universe in the Mirasteilas Observatory, and also enjoy high-class classical concerts by renowned artists.
… offers culinary variety and great accommodation.
There is a whole host of restaurants, bars and cafés in Flims, with a choice including Italian, Asian and traditional Swiss cuisine – anyone with a taste for fine food need look no further. Tip: hikers can take a culinary trail and get to know a series of restaurants in a single tour. There is also some outstanding accommodation on offer in Flims, including the rocksresort design hotel with its urban lifestyle and unmistakable charm.
---
---
Wskazówki do spędzania wolnego czasu Flims Laax Falera
Pokaż wszystkie wskazówki dotyczące spędzania wolnego czasu
---
Kontakt Flims Laax Falera

Gästeinformation Flims Laax Falera
Via Nova, CH-7017 Flims Dorf
Telefon

Strona startowa
E-Mail
Zapytanie i Zamówienie prospektu Noclegi
Lokalizacje Flims Laax Falera
Kolejki górskie Sezon letni

Noclegi Flims Laax Falera
7 Hotele, Mieszkania wakacyjne...
18 Oferty i Ceny all-inclusive
Oferty i Ceny all-inclusive Flims Laax Falera
Kamery internetowe