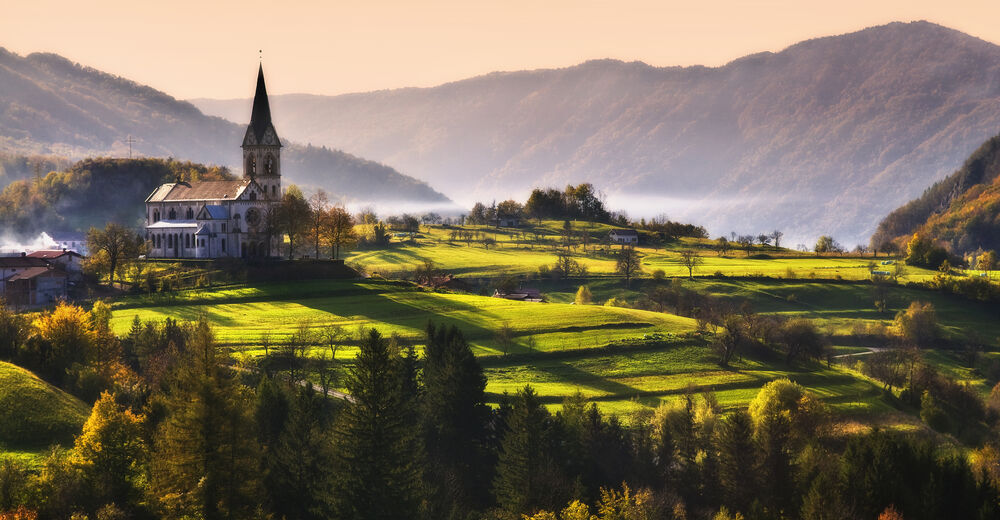 Kobarid is a small and amiable little town, which is situated at the historic crossroads of important routes running through Posočje (Soča Valley) towards Furlanija (Friuli). Kobarid's surrounding includes Breginjski kot, Livško, Trnovo ob Soči – kayak centre along the most striking part of the Soča River – and the wonderful mountain villages under Mt. Krn (Drežnica, Vrsno and Krn).
Perhaps the greatest event imprinted on the history of Kobarid took place during World War I, when during the 12th Soča Battle Austrian troops, supported by Germans, successfully broke through the front lines. The story recounting the town's history and, in particular, events related to the Isonzo Front, are presented in the Kobarid Museum, voted Best European Museum for the year 1993.
The exhibits, the large reliefs of the surrounding mountains, the rich photographic material and mlutivision projections offer a sensitive narrative of those hard and bloody days near the Soča. Part of the events connected to the Soča Front were described in his famous novel A Farewell to Arms by then American war correspondent Ernest Hemingway.
The Kobarid historical trail is fascinating and instructive, leading us through time and the natural beauties of the surrounding environment. The circular trail is 5 km long.
Kobarid is the town in Slovenia that can boast the highest number of excellent restaurants in one single place. Even for the fussiest lovers of good food and excellent wine, a visit to Kobarid will be a great experience. They are linked together in Kobarid gastronomic circle.
Like the other places along the Soča Valley, this too boasts an exceptional natural heritage and a broad range of possibilities for enjoying an active holiday. Rafting, kayaking, hydrospeed, mountain biking, paragliding, hiking and hill walking, fly fishing – in fact everyone can find just what they want to do.
Quelle: www.slovenia.info/en/Orte-Sloweniens/Kobarid-.htm?_ctg_kraji=2858&lng=2&redirected=1
---
Wskazówki do spędzania wolnego czasu Kobarid
Pokaż wszystkie wskazówki dotyczące spędzania wolnego czasu
---
Kontakt Kobarid
Kobarid Info Zentrum
Trg svobode 16, SI-5222 Kobarid
Telefon

Strona startowa
E-Mail