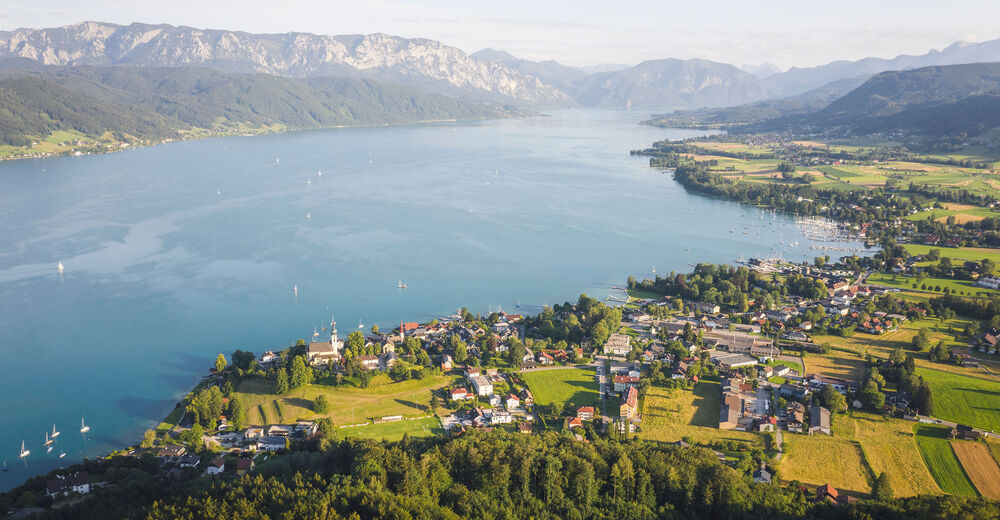 Attersee am Attersee - vacation between nature, golf and sailing tradition.
Vacation in Attersee am Attersee - nothing is narrow-gauge here, except the Attersee railroad. Both sporty and active vacationers as well as those interested in culture have wonderful conditions here for a wonderful vacation at Lake Attersee. In the beautiful nature, in the water and on land, there are plenty of opportunities to take home unforgettable experiences.
After golf on the sailboat? No problem in Attersee am Attersee!
For all friends of a cultivated round of golf the golf club at the Attersee is the right address. With this view, players especially like to work on their own handicap. Somewhat smaller golf rolls can be baked at the miniature golf course right next to the boat landing stage.
There is also a lot to experience around the water. At the various bathing areas and in the adventure pool including a water slide directly into the lake, at water skiing or diving. Sailing has a particularly long tradition in Attersee am Attersee. After all, there is the oldest sailing club in Austria here. You can learn to sail in Attersee am Attersee, rent boats to sail yourself or rent a boat including an experienced skipper to explore the Attersee.
If you like hiking during your vacation, there is a lot for you to discover around our community. Especially the hikes to the Buchberg are rewarded with a magnificent view of Lake Attersee.
Of Romans, pile dwellings and bees
For friends of historical and cultural sights we also have a wide range of offers. At the rest area of the Roman Cycle Path, which leads from Passau to Lake Attersee and on to Enns, you can learn more about the Roman god of the waters "Neptune". In the pile-dwelling pavilion on the northern promenade, several questions about the World Heritage Site are explored. Main topic in Attersee am Attersee: why did people build the lake dwellings directly at the lake and how did they live? The Bienenhof Attersee is not only interesting for busy bees. A ride on the aforementioned Atterseebahn, the narrow-gauge railroad through the Attergau region to Lake Attersee, is also a wonderful experience for the whole family.
Accommodations
You will certainly find the honey from the bee farm in many of our accommodations at the rich breakfast buffet. Whether in a private room, on a farm, in a vacation apartment or in a large hotel - quite rightly you will look forward to a delicious breakfast here after a pleasant night's sleep.
Attersee at the Attersee in winter
Also in winter the village Attersee am Attersee has a lot to offer. How about a wintry walk up to the Catholic parish and pilgrimage church Maria Attersee, which towers high above the village and from which you have a beautiful view of the tranquil Attersee. All skiing enthusiasts and snowboarders can indulge their passion at the Kronberg ski lift. But you can also visit the Bienenhof Attersee, where you can not only learn a lot of interesting facts about the busy bees, but also stop for a coffee and visit the farm store.
Experience nature and history up close - come to Attersee am Attersee!
Do you need help finding accommodation or do you have questions about hiking tours or activities?
Then visit us at the St. Georgen im Attergau tourist office or contact us by phone.
Tourist Office Attersee-Attergau
Information office St. Georgen
Attergaustrasse 55, 4880 St. Georgen
+43 7666 7719
---
---
Wskazówki do spędzania wolnego czasu Attersee am Attersee
Pokaż wszystkie wskazówki dotyczące spędzania wolnego czasu
---
Kontakt Attersee am Attersee
TVB Ferienregion Attersee - Salzkammergut
Nußdorferstraße 15, A-4864 Attersee am Attersee
Telefon

FAKS

Strona startowa
E-Mail
Zapytanie i Zamówienie prospektu Noclegi
Lokalizacje Attersee - Attergau
Jeziora Attersee am Attersee
Noclegi Attersee am Attersee
3 Hotele, Mieszkania wakacyjne...
Oferta sportowa Attersee am Attersee
Kamery internetowe