© Foto Atelier Wolkersdorfer - Gerhard Wolkersdorfer
© Foto Atelier Wolkersdorfer - Gerhard Wolkersdorfer
© (c) Johannesbad Hotels - Gerhard Wolkersdorfer (c)traumbild.at
© (c) Johannesbad Hotels - Gerhard Wolkersdorfer (c)traumbild.at
© Foto Atelier Wolkersdorfer - Gerhard Wolkersdorfer
© Foto Atelier Wolkersdorfer - Gerhard Wolkersdorfer
© (c) Johannesbad Hotels - Gerhard Wolkersdorfer (c)traumbild.at
© (c) Johannesbad Hotels - Gerhard Wolkersdorfer (c)traumbild.at
© (c) Johannesbad Hotels - Gerhard Wolkersdorfer (c)traumbild.at
Hotel

90 Łóżka, 52 Pokoje

Ernst Fassolder

Dr. Zimmermannstraße 7, 5630 Bad Hofgastein
Welcome in Johannesbad Hotel St. Georg****
Spend days of wellbeing in the center of Bad Hofgastein. Located in a valley of spas and hot springs, enjoy silence and invigorating experiences all at the same time. Surrounded by the magnificent alpine panorama of the Hohe Tauern, perfect for all nature lovers. Only 1.5 km from the slopes of Ski amadé and not far away from the highway, the ideal base for trips throughout Salzburger Land. The (free) ski- and citybus stops right in front of the hotel.
In the warm atmosphere and country style of Johannesbad Hotel St. Georg, guests find time for relaxation and wellbeing. This is the perfect place to enjoy the rare natural beauty and impressive mountains of Gastein Valley. If you want to do something good for your health, our Johannesbad Hotel is the right place for you. The mountain lift station for hiking and skiing as well as the wonderful Kurpark – you can reach it all in just a few minutes.
Our hotel specializes in offering the Gastein Thermal Cure as well as base fasting. Add to that the famous Gastein Healing Gallery, and it is clear to see why people come here for prevention and recuperation.
The vitality oasis of Johannesbad Hotel St. Georg, with its spring-fed indoor pool and sauna, invites you to discover moments of pure wellness.
The head chef and his team are composers of true culinary artistry. Traditional food is served alongside light creations and special dietary dishes.
All the packages with price specials you can find on www.stgeorg.com.
you can book online or welcome we give you some ideas at the phone +43 (0)6432 6100. We are looking forward to your visit!
Obiekty
Zwierzęta domowe dozwolone
Strefa wellness
Pokój dla niepalących
Sauna
Basen
Bezprzewodowy Internet
Miejsca parkingowe
Balkon/taras
Pokaż wszystkie obiekty
Pokoje/Apartamenty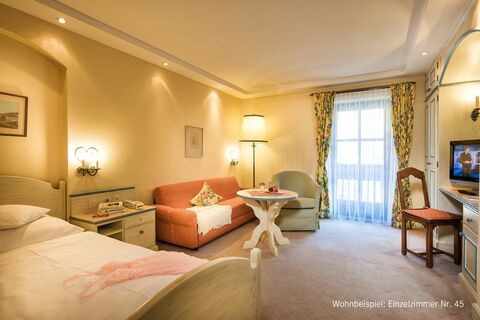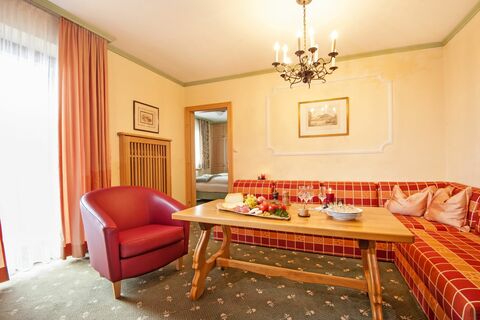 Health & fasting are the specials of our hotel!
Ceny
Ceny po złożeniu zapytania...
Formy płatności
Bar/ EC/ Visa/ Euro/Mastercard
Uwagi
Inclusive:
With all our offers you receive our feel-good services for FREE!
Welcome drink
Usage of our hotel owned feel-good area
Cozy bathrobe during your stay
Morning aerobics (Mo-Fr from April - October)
Fitness equipment
Live music and dancing at the hotel bar in our sister hotel Palace, several times a week
GasteinCard for a lot of discounts for leisure activities within the valley
Free parking (on availability)
Free ski and city bus
Pick up service from the train station (if you stay at least 7 nights its free of charge)
Wi-Fi in the whole hotel
Rent a bike (on availability)
Nordic walking equipment
Hiking map
Furthermore we offer you (for a fee)
Beauty and wellness farm (Mo - Fr)
Health and spa department (Mo - Sa)
Indoor tennis court in our sister hotel Palace
Guided hiking and adventure program in the entire Gasteinertal
Transfer to the train station and airport, on reservation
Underground parking (if available)
Ważne informacje
50402-000005-2020
Numer rejestracyjny zgodnie z obowiązkiem informacyjnym wynikającym z §10 ustawy o podatku od noclegów w Salzburgu
Hotel

90 Łóżka, 52 Pokoje

Ernst Fassolder

Dr. Zimmermannstraße 7, 5630 Bad Hofgastein
Ulubione ośrodki narciarskie
Popularne zakwaterowanie w okolicy